It was 6:30 am and my friend Jonnie Merrill and I woke up to the sound of our alarms going off in Revelstoke BC. It was early January and we were meeting a group of guys at Golden Alpine Holidays at 9:30 in order to get a heli bump up to the Sunrise hut. We got up, eat a quick breakfast and headed out to the car to find about 10 cm's had fallen overnight. Stoked on the week to come we brushed off the car and headed over Rogers Pass to catch the heli. We lost service coming over the pass but about an hour later as we reached the other side I got a text from the trip organizer, Jay Dash, "You close?". We were about 3 minutes away. Then another text followed "You realize there was an hour time change from Revi". Jonnie and I panicked, "We missed the heli?" Jonnie said. "I don't know, but we're an hour late" I responded. We rolled into the parking lot, grabbed our gear and ran over to the helicopter pad… Fortunately, they had waited.
Although we had missed the heli briefing and a few of the first trips out, we quickly signed a waiver, tagged our gear, then hopped in the heli to go to our home for the next week. Going from rushed to having absolutely nowhere to be we let out a sigh of relief. The plan for the week was to simply ski pow with our friends. There were ten of us on the trip Jonnie, Jay, Sammo Cohen, Carlo Travarelli, Thor Hedin, Connery Lundin, Ben Wheeler, Dan Rihm, and Tim Jones.
A storm was coming the following day as it was supposed to snow for the next six days. With an already unstable snowpack, it wouldn't be a surprise if the avalanche danger went into the Extreme range. We went out to dig a pit and get a feel for the current snowpack before it started snowing, it was then we quickly realized that we'd be spending most of our time in the trees that trip.
As we worked our way through the trees below the hut one of the days, Jay, Jonnie, Dan, and I found an area with a couple pillows that could pop us up through the hallways of trees. Realizing the opportunity, we started packing out pillow tops so we could pop as high as possible while Jay set up for photos down below. The first set of pillows we found ended up being too small to work well, but the second set created a beautiful hallway effect and got us just high enough for it to work. Dan got the cellphone video from the top, as Jay snagged the shot from below.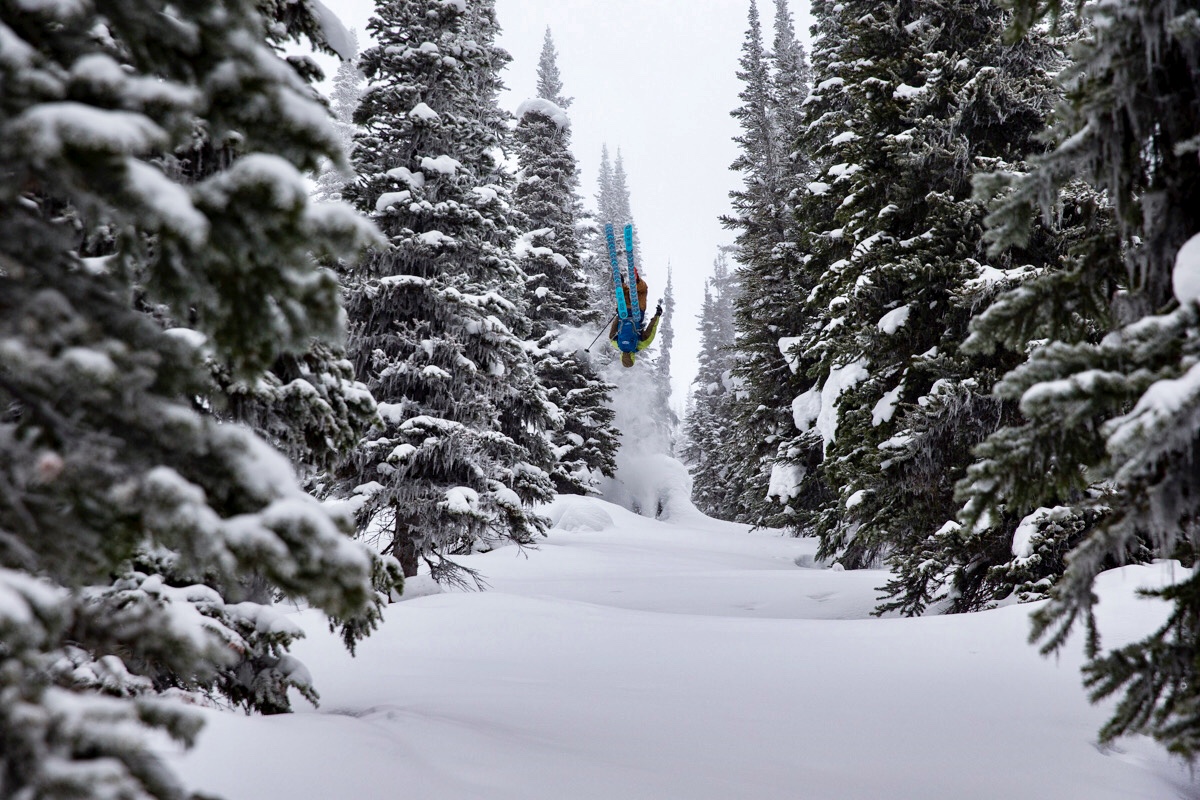 Photo by Jay Dash
After several days of storms and continual high avy danger, we finally began to have chances for sun. The second to last day we were there the stars aligned and we got to watch an amazing sunrise, see blue sky, and finally, travel out of the trees. The stoke was high and everyone stared in awe at our surroundings. The pressure was on to try and get shots as we'd been waiting on the sun for days now, yet the avy danger was still high enabling us of any large lines. We all scattered around trying to find short, safer pitches that we felt comfortable skiing on. Throughout the trip, I had repeatedly walked past this one prominent saddle in the high alpine as it gave us access to several other pitches we wanted to ski. As I came up to it again that morning, I realized that the way the ridge curved created a perfect natural lip and landing that was about 30 feet apart. Jonnie was down to hit it with me so we told Jay about it and he agreed to shoot it. We hiked up, sent it, and it was that moment Jay happened to capture one of my favorite photos from the trip!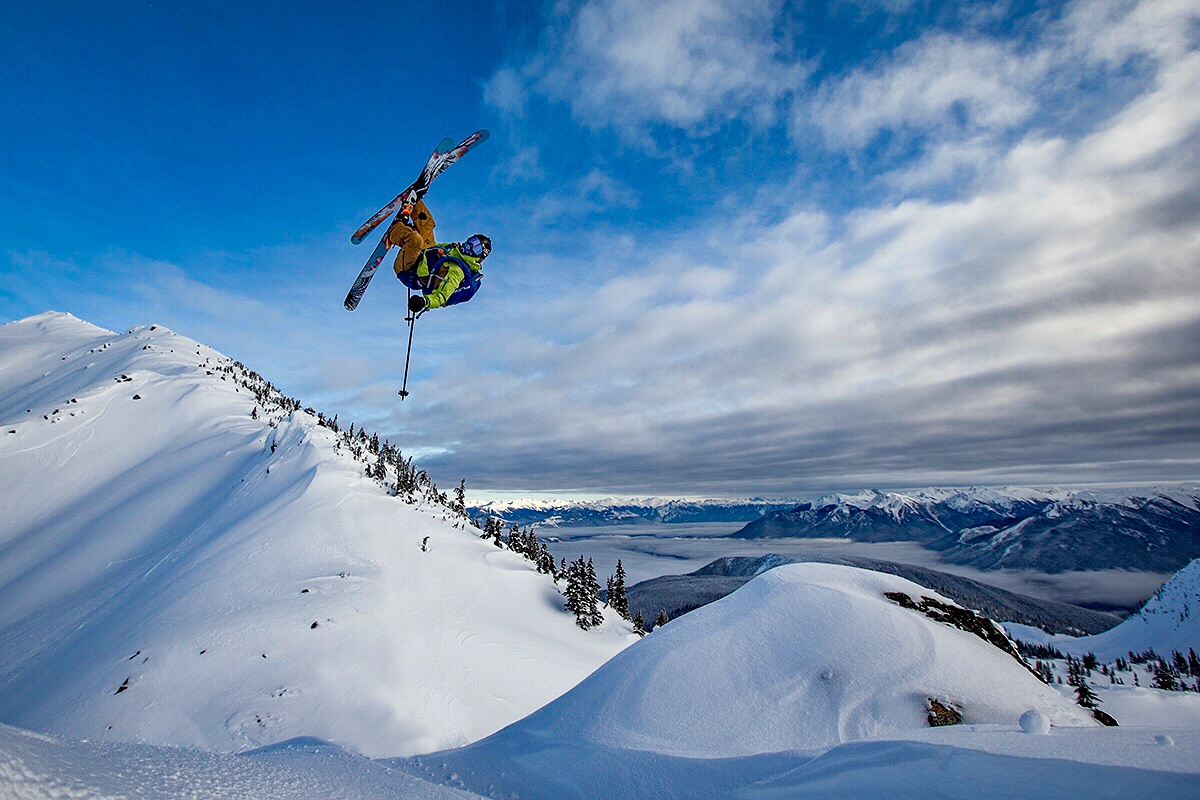 Photo by Jay Dash
Before we knew it the trip was over and we gathered our stuff awaiting the heli to take us home. We were all nostalgic about the week behind us and could easily stay another week. Although we never got to ski the Ridge of Melting Faces or other big lines throughout the valley that trip, we still ended up making the most of it in the safest way possible. The mountains will always be there and as long as we can ski smart and safe then we'll be around to ski them another day. No matter the conditions in the backcountry there is always a safe way to send it. Sometimes it's in flat trees with nothing dangerous above and sometimes you're lucky enough to be able to ski scary lines. Either way, it's always fun when you're on skis enjoying the world around you.